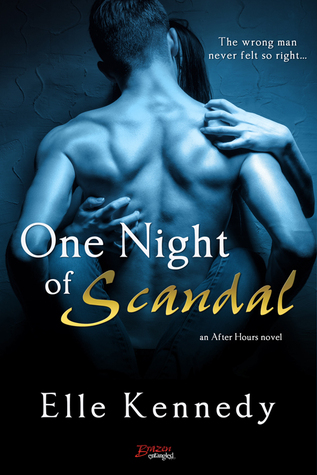 Title- One Night of Scandal (
Author- Elle Kennedy
Publisher- Entangled Publishing
Amazon- http://goo.gl/wPFy2o
BOOK SUMMERY:
The wrong man never felt so right…
Ex-fighter Reed Miller has been secretly lusting over his best friend's girl for months, but he refuses to jeopardize a friendship over a woman—especially one who doesn't like him all that much. Now that Darcy's on the market again, it's even more imperative to stick to his strict hands-off policy. But the sizzling attraction between them is too powerful to ignore, and once he's had a taste of her…all bets are off.
Darcy Grant is tired of walking the straight and narrow path. She's on the hunt for passion, and there's no denying Reed is just the man to give it to her. Although she has no interest in dating a bad boy, and certainly not her ex's best friend, it's impossible not to melt beneath Reed's skillful touch. Now it's just a matter of setting a few ground rules—and hoping her rule-breaking, sweet-talking bad boy agrees to follow them. But if she lets Reed into her bed, does she stand a chance of keeping him out of her heart?
BOOK REVIEW:
One Night of Scandal is the second installment in the After Hours series, but this time we learn a little more about bad boy Reed and A. J's girlfriend Darcy. I have to confess I might like Reed and Darcy's story more than Gage and Skyler's, and I adored them! I felt that there was something between Reed and Darcy in the first book, so it was really easy to feel their chemistry right off the bat in this book. I also think I related more to Darcy, she a teacher and some things she said were something I can see myself saying like, "How do I even phrase it? What does Ecstasy even come in? Hits? Pills? Fingers, you know like whiskey?".
Again this installment had enough smut in this book for people that enjoy it and a story line that makes you love every single character. I can't not wait to see what is in store for A.J next.
BOOK EXCERPT:
"Darcy, wait. Seriously. Come on, wait up."
She kept up the brisk pace, ignoring Reed's increasingly annoyed shouts from behind
her. Her heels snapped on the pavement in an angry click-clack as she barreled down
the sidewalk. She'd taken five more steps when a heavy hand clapped on her shoulder.
"Must you always be so damn difficult?" His aggravated rumble heated the back of her
neck.
Darcy twirled around to face him. "Dude, just go away."
His lips twitched. "Can I at least apologize first, dude?"
"No."
He grasped her arm before she could walk away. "What do you mean, no?"
"Should I say it in a different language so you can understand? Fine. Non. Nein. Niet.
Nej. Nai. Um—"
"Nai?"
"That's Japanese," she said haughtily. "Duh."
"Do I even want to ask why you can say the word no in so many languages?"
She blew a strand of hair out of her eyes. "I'm a teacher, Reed. I know things."
His deep chuckle sent an unexpected—and extremely unwelcome—shiver scurrying
through her. Before tonight, she'd never felt anything even close to warmth or
awareness toward this man, but somehow her system had shortcircuited, and now she
couldn't stop staring at his mouth. His firm and surprisingly sensual mouth. And all that
dark stubble sweeping across his strong jaw… She wanted to run her fingertips over it
and feel those bristles scratching her skin.
No, you don't.
Right. Of course she didn't.
God, what on earth did the Krib's bartenders put in their drinks? Those shooters were
obviously messing with her head.