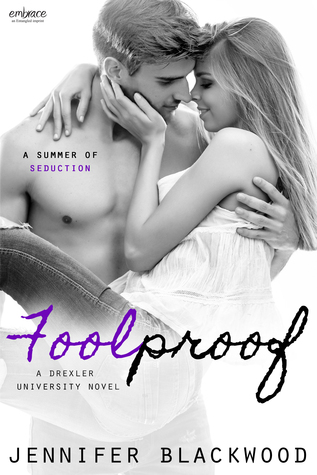 Title: Foolproof
Author: Jennifer Blackwood
Publisher: Entangled Embrace
Release Date: January 26, 2015
GoodReads: https://www.goodreads.com/book/show/23941343-foolproof?from_search=true
Book Summery:
A summer of seduction…Jules Carmichael needs to get her life together. Pronto. School's been hell, there was that tiny stint in rehab, and worst of all, she's lost her cushy summer job. The only available work is at Office Jax, home of horrid 90s music and the biggest jerk on this side of the galaxy…
Recovering from a brutal break-up and taking a hiatus from college, Ryan DeShane has just discovered the "6 Ultimate Steps to the Perfect Summer Fling." It's a brilliant distraction, and Jules is a tantalizing target. But the "steps" work a little too well, because he and Jules are definitely, uh, flinging. And it's only a matter of time before Ryan's foolproof plan starts to seriously unravel…
My Review:
Foolproof is the second book in the Drexler University series, but the book can be read out of order. I never read Unethical, but that did not stop me from enjoying Foolproof, it only made me want to read the first installment to find out more about Blake and Payton.
When Ryan and Jules first meet they have the worse first impressions of each other. Ryan thinks that Jules is a stuck up princess like his cheating ex-girlfriend and Jules think that Ryan is an asshole. After Ryan reads an article about a summer fling, he decides Jules is the perfect girl for the job. I loved all the corny jokes between Ryan and Jules, it was something I would do and using parts of song made them even better.
Foolproof was a very sweet romance, I like that wasn't a lot of drama, they were just two normal college students with normal problems. Who brought out the best in each other, and helping read other along the way.
Purchase Foolproof
 Amazon: http://amzn.to/1BJ7xUM
B&N: http://bit.ly/1xT70m3
iTunes: http://bit.ly/1tKSqpM
Google Play: http://bit.ly/1Is4jrf
Kobo: http://bit.ly/1tKSBkU
Excerpt
 Shifting in my seat, I pulled off the hoodie, my shirt creeping up with the sweatshirt. I turned to Jules, whose mouth had shaped in a very attractive O, her gaze roaming over my exposed abs. She glanced up and quickly looked away when she saw I'd noticed her stare.
Caught you.
She was interested. Time to reel her in. "See something you like?"
She cleared her throat and, even in the darkness of the truck cab, I noticed the deepening blush that splashed across her cheeks. "I've seen better."
There wasn't a lot about my body that I was overconfident with, but I'd done enough sit-ups and burpees to earn my eight-pack. "You must see a lot of abs then. Have a rating system?" I snapped my fingers. "No, wait, a spreadsheet."
"If that were the case, you'd be a mid-lister." Her mouth quirked into an innocent smile.
I suddenly wanted to dropkick every single guy on that list. What kind of guys did she date if I was a "mid-lister?" Bodybuilders? Thor?
I needed to flip the brakes of this freight train thought process speeding on a direct route to don't go there, dipshit. Her dating history didn't matter, because in a few weeks I'd be back in Texas. A few times of hooking up, and I'd have this girl out of my system. "Good thing I'm not just another guy on your list."
She cocked a brow, a clear Payton-ism, her gaze wandering everywhere but my direction. Her fingers etched across the earrings running up the perimeter of her ear. I wanted to run my tongue over each one of the piercings, pin her down in the truck, and explore every inch of her skin. My cock twitched in agreement. I shifted in my seat, adjusting my raging erection.
"You wouldn't even qualify, DeShane."
"Is that so?" Damn, she was cocky. And I loved it.
"Not even for the thirty-day trial period."
"I wouldn't need thirty days to convince you," I said.
"And how many would it take?"
Lowering my voice, quiet enough for Blake and Payton not to hear—not that they paid either of us any attention—I said, "I could have your toes curling in twenty seconds flat. Two minutes, and I'd be at the top of that spreadsheet of yours.
Giveaway

Signed print copy of Unethical
$5 Amazon gift card
Click HERE to enter