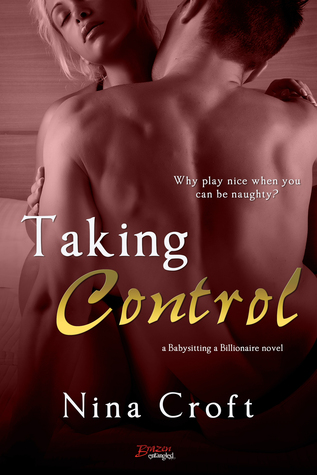 Title- Taking Control
Author- Nina Croft
Publisher- Entangled Publishing
BOOK SUMMERY:
Why play nice when you can be naughty?
Jessica Bauer is aces when it comes to security, but the PR side? Not so much. Now she has a chance to take over Knight Securities―if she plays nice with the next client. Unfortunately, that client happens to be Declan McCabe. And it's too bad someone wants him dead, because after he broke her heart ten years ago, Jessica would have cheerfully murdered him herself.
Declan has taken his dad's not-so-reputable company and turned it around, and in the process, he's attracted the attention of some vicious killers. The only perk is being reunited with Jessica, who Declan still wants so much he can barely see straight. But Jessica has a plan of her own. She'll protect Declan. She'll have unbelievably hot sex with him.  And when the job is finished, she'll move on. Except that this time, Declan isn't so willing to walk away…
MY REVIEW:
I have some mixed feelings about this book; I really enjoyed the bander between the two main characters, Jessica and Declan. I didn't at all feel the connection between them though, what I did feel was lust.
Jess was a story leading lady and had the job of protecting Declan from a threat, but she ended up not only protecting him, but her heart as well, always afraid to get too close to him. I enjoyed that she was such a strong leading lady, that was set out to protect him.
I really enjoy second chance stories, but this one did give me the feeling that others have in the past. There were plenty of sexy and hot scenes between Jess and Declan.