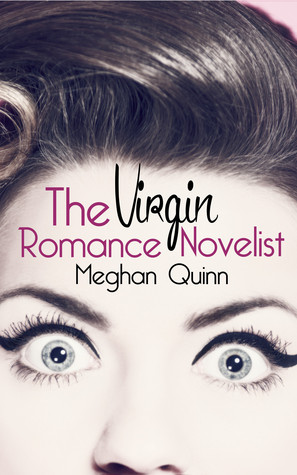 Title- The Virgin Romance Novelist
Author- Meghan Quinn
Publisher- Hot-Lanta Publishing, LLC
Release Date- April 2, 2015
Amazon-   http://goo.gl/Dz11vq
BOOK SUMMERY:
Her bosom heaved at an alarming rate as his rough hand found its way down to her soft, yet wiry briar patch…
Can you say briar patch in a romance novel? What about meat sword? That's what it is…a meat sword, right, all meaty and sword like, slaying through the inner dungeons of a woman's dark desires. What about breasts? Do bosoms really heave?
God, I have no idea what happens when private parts touch.
I'm a virgin trying to write a romance novel and can't seem to write past a sex scene thanks to my lack of experience.
My two best friends encourage me to drop the pen for a while and gain some real life practice through multiple dating facets such as blind dates, online profiles, and random hookups.
But losing my virginity is proving to be tougher than expected…
MY THOUGHTS:
"I'm the girl who lives in fantasies where love always prevails and a hero is just waiting around the corner to swoop in on his white horse to save you. Given my love and my to get lost in my writing, I didn't  think it would be so hard to write my first romance, given the fact that is my favorite genre, but I forgot about one little speed bump in that plan. I was still a virgin."
All Rosie wants to do is write a romance novel, the problem is she can't seem to put the words down the right works. The main reason for her problem is that she is still a virgin. Not only is she a virgin, she has had little experience with men; she has lived a very sheltered life. With the help from her friends and the world of dating, Rosie is sure she can learn a few things.
This was such a great book that had me laughing the whole time I was reading it. Being that I was so entertained, I could not put it down!!!! Rosie was such a great main character, as naïve as she was, she was very open minded. As a reader you share the very awkward moments that Rosie goes through with her friends and the people she dates. I loved Rosie's friends just as much as I loved her! They helped her every step of the way and listened to all of her traumatic experiences. Rosie's relationship with Henry was adorable and that is all I can say without ruining certain parts of the book!
If you want to read a book that will keep you laughing, I recommend this one to you!