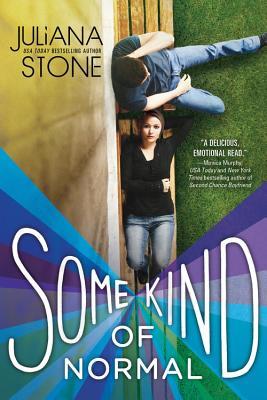 Title- Some Kind of Normal
Author- Juliana Stone
Publisher- Sourcefire Books
Release Date- May 5, 2014
Amazon-   http://goo.gl/4JWi2F
BOOK SUMMERY:
For Trevor normal was fast guitar licks, catching game-winning passes and partying all night. Until a car accident leaves Trevor with no band, no teammates and no chance of graduating. It's kinda hard to ace your finals when you've been in a coma. The last thing he needs is stuck-up Everly Jenkins as his new tutor—those beautiful blue eyes catching every last flaw.
For Everly normal was a perfect family around the dinner table, playing piano at Sunday service and sunning by the pool. Until she discovers her whole life is a lie. Now the perfect pastor's daughter is hiding a life-changing secret, one that is slowly tearing her family apart. And spending the summer with notorious flirt Trevor Lewis means her darkest secret could be exposed.
MY THOUGHTS:
" It was a beautiful song. A simple song. It was a song about love, acceptance, and listening to your heart. I don't know if he screwed up, got the words wrong, or played the wrong notes. If he did? It didn't matter, not to me anyway. He was up there for himself, and he was up there for me. Singing to me."
Trevor was the bad boy that all the girls love; I mean how could you not? He was cute, a football player and part of a band. All that change when he was in a car accident that left him in a coma. Once he came out of the coma he was different, when he spoke he's words would become jumbled sometimes and he didn't have much of a memory. That's where Everly came in, she was to spend the summer tutoring Trevor, so he could graduate high school.
When I first saw the cover, I knew that I would enjoy reading the book. Both characters went through some very realistic problems. I also think their reactions and how the dealt with their issues were realistic as well.
Both characters grew together throughout the book learning how to trust others and open up to people in their lives. Trevor and Everly didn't start being in love with each other, yes they were attracted to each other, but that was all. I loved reading how each of their feelings grew through the duel pov. I do not think I would have enjoyed the book as much as I did it if was one-sided.
This was a very sweet clean young adult book that stayed true to the genre and I think most reader will enjoy reading it.