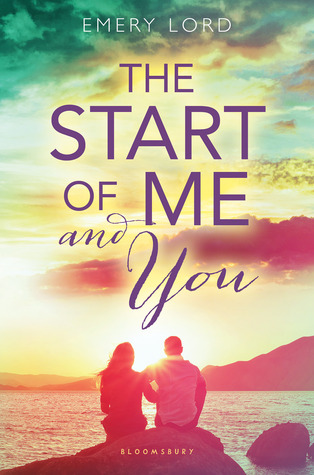 Title- The Start of You and Me
Author- Emery Lord
Publisher- Bloomsbury USA Childrens books
Release Date– March 31, 2015
BOOK SUMMERY:
Brimming with heartfelt relationships and authentic high-school dynamics The Start of Me and You proves that it's never too late for second chances.
It's been a year since it happened—when Paige Hancock's first boyfriend died in an accident. After shutting out the world for two years, Paige is finally ready for a second chance at high school . . . and she has a plan. First: Get her old crush, Ryan Chase, to date her—the perfect way to convince everyone she's back to normal. Next: Join a club—simple, it's high school after all. But when Ryan's sweet, nerdy cousin, Max, moves to town and recruits Paige for the Quiz Bowl team (of all things!) her perfect plan is thrown for a serious loop. Will Paige be able to face her fears and finally open herself up to the life she was meant to live?
MY THOUGHTS:
"When it all closes in, there are only two kinds of people: best friends and everything else."
This was a great light-hearted story about deals with losing people close to you and how the people that have your back get you through it all. This story was mostly about friendship, Paige and her group of friends had each other's back through; death, break ups and family let downs no questions asked. Then they added Ryan and Max to their little group and just like the girls, they were there for each other through thick and thin. Everyone needs a friend once and while and that is what this book show, I think plenty of young readers will read this and see their group of friends with in it. I also like that all the drama was very appropriate and things that can happen while in high school.
Every character in this book had a bit of charm and there wasn't a single person I didn't like. I did love the banter between Max and Paige and how they were able to open up with each other. They were both nerds at heart and that is what connected them from the moment they became friends.
I would defiantly recommend this to young readers that are from seventh grade up. Most YA readers might not like it as much due to the sweetness to the story!