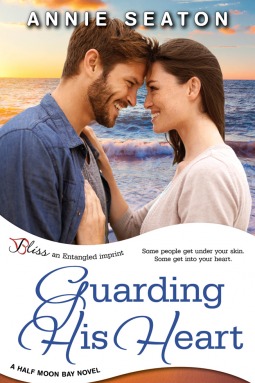 Title- Guarding His Heart
Author- Annie Seaton
Publisher- Entangled Bliss
Release Date- March 10, 2015
Amazon-   http://goo.gl/CFQfAJ
BOOK SUMMERY:
Some people get under your skin.
Some get into your heart.
Bestselling author Liam Wyndham needed an escape, and Half Moon Bay, with its small town charm and beautiful ocean, is the perfect place to hide out from the scandal surrounding his estranged dead wife. A place where he can enjoy his writer's block in sweet isolation. But all of his plans to become a surly recluse disappear when carpenter Georgie Sacchi marches into his house…
Georgie wants an adventure, and she has a plane ticket that promises her everything she needs—excitement, independence, and a way to escape the memory of her last ruined relationship. Still, she has one last job to complete before she can leave the country. The last thing she needs is a recalcitrant author with a gorgeous face (and a hot body) distracting her from her plans.
But life doesn't always give you what you think you need…
MY THOUGHTS:
Another Entangled Biss book that I enjoyed reading from beginning to end! It was a great book to snuggle up on a snow day with. This book brought me to the warm weather while snow was falling outside.
Since this was a Bliss book there wasn't a lot of drama and that is one of the main reasons why I like Bliss books so much! Liam went through a tragedy where he lost the woman he was married to, even though they were separated, he still cared for her. I like how he was able to open his heart up and give into his feeling for Georgie. Georgie on the other hand knew her feeling for Liam, but wouldn't give into them because she was leaving and going on a trip she didn't want to go on in the first place. There were so many times I got mad at her because she was just hiding behind this trip.
I always love a sweet contemporary romance that you can read from cover to cover in a day and this was one of them! I would recommend this book to anyone looking for exactly that!