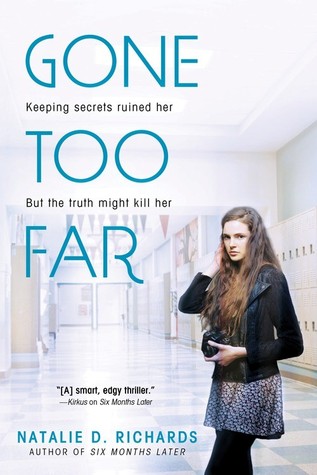 Title– Gone Too Far
Author- Natalie D. Richards
Publisher- Sourcefire Books
Amazon-   http://goo.gl/EjYm25
BOOK SUMMERY:
Piper Woods can't wait for the purgatory of senior year to end. She skirts the fringes of high school like a pro until the morning she finds a notebook with mutilated photographs and a list of student sins. She's sure the book is too gruesome to be true, until pretty, popular Stella dies after a sex-tape goes viral. Everyone's sure it's suicide, but Piper remembers Stella's name from the book and begins to suspect something much worse.
Drowning in secrets she doesn't want to keep, Piper's fears are confirmed when she receives an anonymous text message daring her to make things right. All she needs to do is choose a name, the name of someone who deserves to be punished…
MY THOUGHTS:
Every high school has a different social ladder and most likely while in high school, you belong to one of the stereotypes; the popular group, the nerds, the artistic group, ect. Also, most everyone one has that one secret that they keep hidden, but what if those secrets got out? This is what happens in Piper Woods' high school.
As a whole I enjoyed reading Gone Too Far, but there were some things that were missing for me. Nothing big that would make me dislike a book, but they bother me a little bit. For some reason I couldn't really connect to Piper as a character at the beginning of the story. Which means it was a little hard for me to get into the story at first, but in the end I was engrossed and felt for Piper. I think she grew a lot as a character as well. In the beginning she had her own stereotypes of the people in her school and never saw the picture, but in the end she realizes there's more to a person than meets the eye.
I like that Piper was a photographer (something I can relate to) and how she wanted to capture every moment. I love how when she first kissed Nick, she wish she had her camera to capture the moment.
I also liked that there was a bit of a mystery to the book, we aren't really sure who is sending the texts to Piper. She has many theories and all of them seemed to have reasons to be a suspect.
I thought the plot of the story was great for young readers to connect to. They may relate to Piper or one of the many characters in the book. I think there were a lot of different personalities in this book.