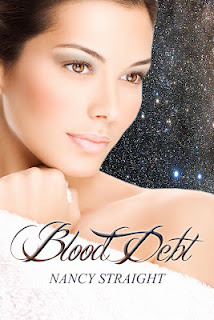 Title- Blood Debt
Author- Nancy Straight
Amazon- http://goo.gl/tYSdca
Rating- 5 Stars
BOOK SUMMERY
Her whole life, it had just been the two of them. Before her mother's last breath, she gave Camille the information she had craved her entire life: the identity of her father. Daring to contact him, Camille was welcomed by an entire family she never knew existed. But nothing comes without a price, as she discovers when her family claims a legendary heritage tracing back to a centaur touched by Zeus.
As she learns the secrets of her Centaur bloodline, she is drawn into a forbidden love with Drake. Her life may be the blood debt required to pay for her mother's transgressions. The same person who once held her mother captive, and forced her into decades of hiding, now controls Camille. Her only chance is to seek a piece of her mother's past that will win her freedom and the life she desperately wants
MY REVIEW
After reading His Frozen Heart by Nancy Straight, I fell in love with her writing and could not wait to dive into another one of her books. By luck I learned that Blood Debt, which is the first installment in the Touched Series, was free on amazon and I immediately bought it. Again, I was not disappointed in my choice of books. Nancy takes us into a world here centaurs exist. This was the first book I read where centaurs were involved and I must say, what a breath of fresh air! Being that not many writers touch upon this race, the book was one of a kind from the very first page, what a relief!
Now that I raved about the author I will rave about Blood Debt! I adored Camille and her new found family at the very beginning, they all accepted her with open arms (I always felt that they were too open and something else was going on). There was only one main character that I did not like and I wasn't supposed to like her, every character stood out to me in their own way
There was also so much mystery within the story that Camille needs to uncover. Even after finishing the first book, I have questions unanswered. This means that I WILL be reading book two to find out more. I also love that the story had a forbidden love; I was rooting for all forbidden love within the book the whole time.
I was very engaged from cover to cover and it has a lot to do with the world that Nancy Straight developed. I would recommend this book to anyone who enjoys books that involves fantasy with a little bit of Greek mythology mixed in.