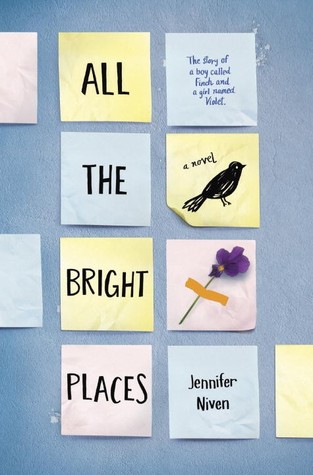 Title- All the Bright Places
Author- Jennifer Niven
"The thing I realize is that it's not what you take, it's what you leave."
After reading the synopsis I was instantly drawn in, first thing I saw was the book was compared to Fault in Our Stars and I absolutely loved that book. Then I read on and saw the phrase, "beautiful story about a girl who learns to live from a boy who intends to die". Instantly I wanted to know; why this girl needed to learn to live and why was the boy intended to die.".
We meet both Violet and Finch when they are standing on top of a bell tower at school. Both claimed the other saved them from doing something they actually didn't want to do. From then on Finch became smitten with Violet and decided he wanted to be paired up with her on a project to explore the wonders of Indiana.
I'm not too sure where I want to start with this novel, I have to admit after reading the story, I am an emotional wreck. Throughout the book the subject of suicide was brought up, this is a great topic for the YA genre, I know someone who has committed suicide and I thought this story shows that there are groups and people to talk to. We see Violet deal with the loss of her sister and how she herself became depressed, counting down the days until she could get away. Then there was Finch who was counted the days where he felt awake from the dark hole he goes to at times.
I felt that the only characters I liked in this story were Finch and Violet, a lot of the other characters annoyed me and I didn't understand why they just watched these situations happen. I love the life and energy the Finch brought to the book. His point of view was always my favorite to read. I also liked what Finch brought out in Violet and growth they both had.
I cannot wait to see these characters to come to life in a film!